PhotoLab's Optical Modules only take into account photos recorded in raw format if the shooting characteristics have been analysed by DxO's laboratory . All the available corrections are grouped under the term "Optical Module".
1- Only raw photos taken with an analysed Digital Camera (DC) can be edited by PhotoLab.
DNG format photos from a supported DC after conversion by PhotoLab, Adobe DNG Converter or Lightroom only are also supported.
* PhotoLab does not open all low resolution or compressed raw formats.
* PhotoLab can only apply its advanced PRIME noise reduction algorithms (Elite edition only) to raw files from a supported DC.
* PhotoLab can always open a JPEG image from any source (unknown DC, third party software, scanner, …).
2- Lens characteristics is a second benefit of the application of DXO's optimal corrections.
The technical improvement of the photo is done automatically and without any intervention of the user because the defects of the optics are known and repeatable.
In the case of optics for which there is no Optical Module, the various tools used to improve the image are still available, but it is up to the user to determine the correct settings.
3- When opening a photo for the first time, PhotoLab offers to download the optical module of the combo (DC+lens) if it has not previously been downloaded.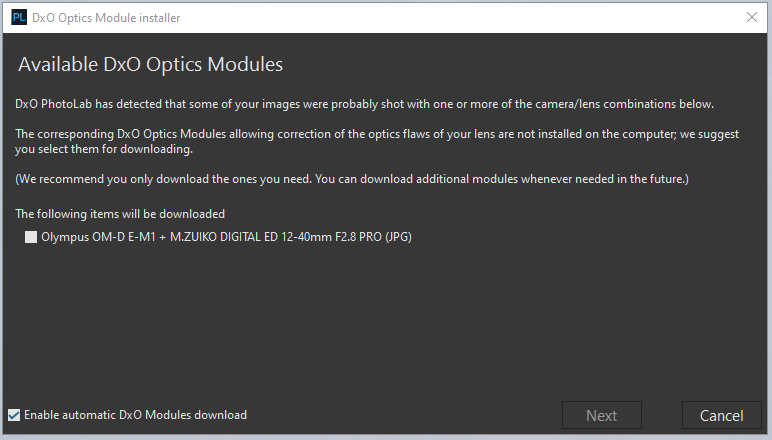 To avoid the display of this invitation to download.
– Menu: Edition / File – Preferences – Tab Display "Display DxO Optics module download window" (not recommended)
The no module icon is always displayed on the thumbnails.

Some combo (camera + lens) have two DxO modules depending on whether the photo is from a raw or camera JPEG file.
* The "1- DxO Standard" preset applied to a raw photo offers a complete optical correction
* When applied to the image of a camera JPEG file from these cameras, the "1- DxO Standard" preset enhances the corrections (distortion, sharpness, vignetting, …) already applied by the camera according to the DxO improvements
If these images are intended to be used in PhotoLab, it is preferable to deactivate the noise reduction of the camera to fully use the HQ reduction of DxO.
Classic DSLR combos (without software optical correction) are not concerned. The optical module exists only in one version.
(*) Most DSLM cameras perform geometric corrections on the image, the lens does not deliver an optically perfect image (distorted, vignetted) and the internal software finishes the job on the JPEG.
DxO starts from the raw image of the sensor and corrects it in its way, better than the manufacturer (sic). This is why there are two optical modules for these cameras.
This icon indicates that no optical module is available.

The various corrections resulting from the availability of a combo (DC + Lens) optical module.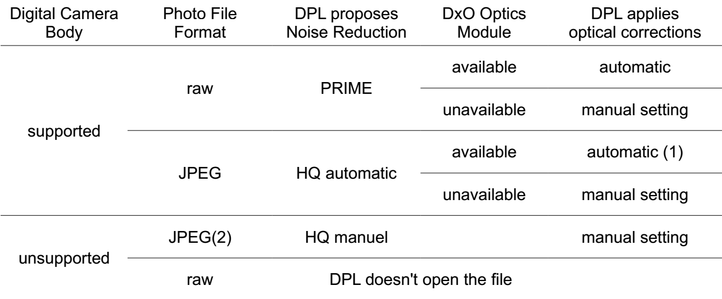 (1) Sharpness adjustment, chromatic aberration corrections, vignetting and optical distortion will be applied automatically in addition to possible corrections applied by the DC
(2) as well as an RGB file (JPEG or TIFF) of any origin (software, scanner …)
DxO does not allow PhotoLab to process raw photos from unsupported DCs. This is because the company wants to ensure that a user's photos are developed in the highest quality controlled environment.
For new cameras, you have to wait. The DxO lab can take a long time to create a profile. This is frustrating when the cameras are close to the previous range and look similar to older models.
To match an image to a module, DxO uses several pieces of Exif/MakerNote information in the following order:
– Lens name (LensName)
– Lens specification (LensID)
– Description (e.g. 18-35mm F3.5-5.6) (LensInfo )
– Shooting information about the focal length and aperture (F-number)
The first two pieces of information are supposed to be unique, but not all manufacturers comply with this requirement. Sometimes they are not available (especially for older generation APNs). When an optical module is misidentified, PhotoLab may suggest one or more other lenses with an ambiguous designation.
DxO reports that lens recognition problems are becoming increasingly common. The optical field is evolving with improved versions and products from independent manufacturers.
PhotoLab is not fully compatible with Adobe's Super Resolution DNG files.
TuToDxO.com – All rights reserved – tous droits réservés.