PhotoLab relies on the file system of OS (Windows or Mac OS).
The "PhotoLibrary" tab presents the Source Browser with access to OS favorites.

Unlike others software, there is no need to import photos. However, PL does store its parameters in a database.
This feature leads to the absence of the "save" menu, each correction being saved in real time. In use, it turns out to be rather powerful.
In the "PhotoLibrary" tab of PhotoLab, the Image browser (also called filmstrip) allows you to sort the images.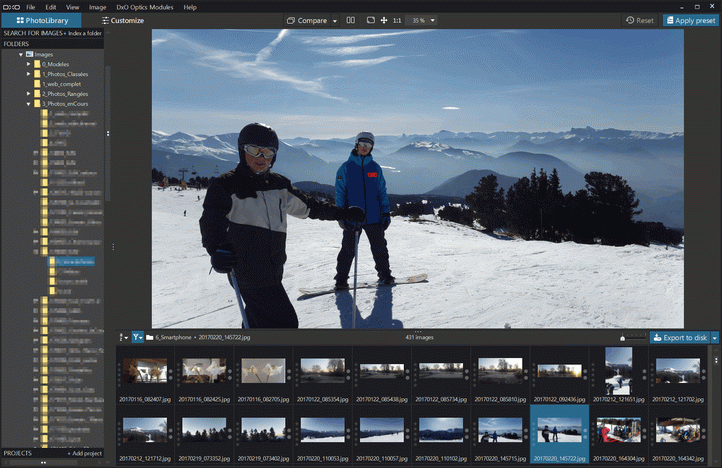 – Adjust the height of the grid to specify the ratio of the window thumbnail / preview (illustration)
– Use the mouse wheel to scroll through the lines of the thumbnails
– Click on the "FIT TO SCREEN" button (F3 / Cmd + 0) to adjust the main preview display to the screen size
– Ctrl + wheel to enlarge / reduce the size of the thumbnails (the mouse cursor should just be on the thumbnails)
The active thumbnail is sometimes lost after a large size change:
– Click in the preview window, then on the left arrow key, and then on the right arrow key to restore it
TuToDxO.com – All rights reserved – tous droits réservés.