Traffic lights from thumbnails are markers to use in parallel with the notation.

The red light (Reject) prohibits the export of the photo even if requested.
However, the green light is not required for allowing export.
The ratings (stars) and the traffic lights are independent. Traffic lights do not remove ratings.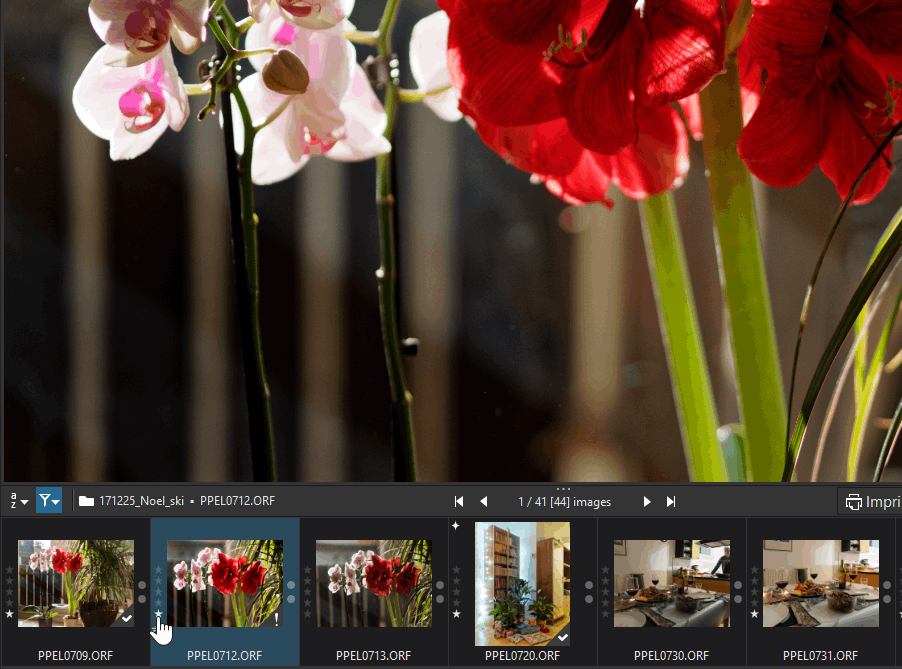 – Select thumbnail rating icon with the mouse OR
– Use the keyboard shortcut Ctrl+ 0 to 5 / 0 à 5 for ratings (stars)
– Ctrl+ 7 for the green light, Ctrl+ 8 for no light and Ctrl+ 9 for the red light
– 7 or P, 8 or U and 9 or X (Pick, Reject, Untag)
– Right and left arrows to switch to another Thumbnail
The properties window advantageously replaces the information pop-up window of the Image Browser (Filmstrip). During navigation its display is permanent.
– Menu (Windows only): Image – Image Properties (Ctrl+ I)
– Right or Left arrow to navigate
This pop-up window can be removed with the option
– menu: Preferences / Display / Information panel = Never

Full screen mode (shortcut F11 / Shift+ Cmd+ F) allows to discover the images and making the selection more comfortably.
Depending on the power of the computer this method can be terribly slow!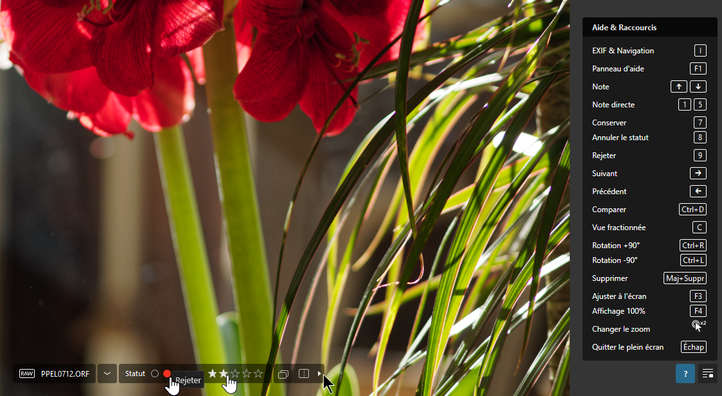 * It may be wise to split the report into several subfolders of about fifty images that after sorting will be combined into one
* It is also possible to cancel the corrections by applying the preset "4- No correction"
Do not forget to do the reverse manipulation "1- DxO Standard".
– Click the icon of a marker, a note or the arrow for the next picture OR
– Type a number from 0 to 9 (Optional Ctrl key in this mode) or Right arrow for the next picture
TuToDxO.com – All rights reserved – tous droits réservés.