As we have seen, our photos or images are packed in a file. The image itself transports information e.g. a story, emotion or message. Most software is unable to extract such information from the image or the surrounding file though.
Metadata is Information ABOUT Information
To find and identify a file, we mostly walk the path to the file and check the filename. But the filename does not necessarily say anything about what's inside the file. Remember, the image is our asset, the file is just a box!
If we now add information about the image, its creator and subject in proper ways, we can use software to find images rather than files. Files mostly contain information about the camera and camera settings, exposure – but files have no clue what's in the image. That's why we add information about the image. Adding metadata is like climbing a mountain to get a less restricted, better view.
To find images rather than files, we need a good memory (and many of us rely on it) or use metadata, because it also helps other people and applications to find images.
Metadata Flow Synopsis
Let's take an unusual look at a photographer and his or her camera (bright grey box), a subject and some software (blue box).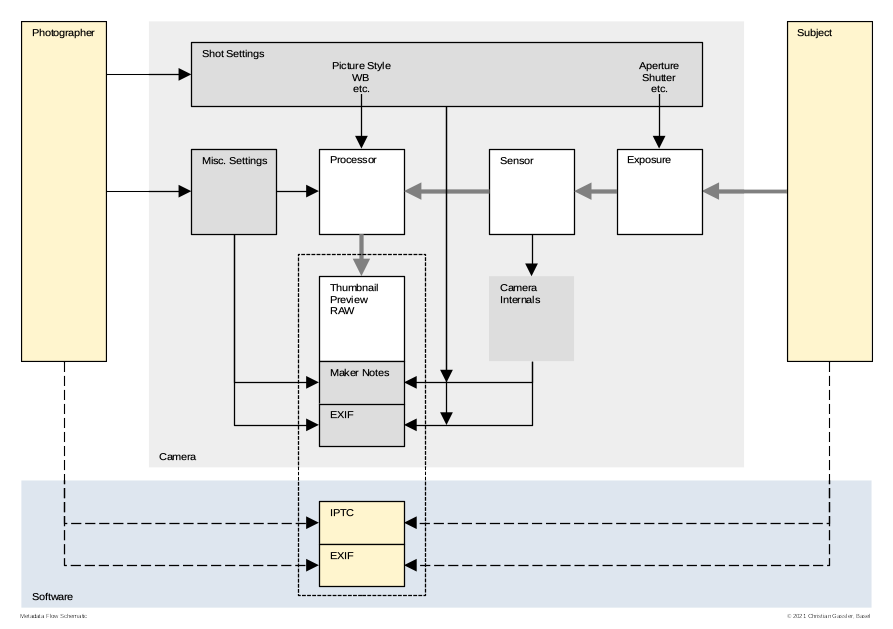 Metadata from many sources flow into distinct metadata groups reserved to contain specific data.
Maker Notes: technical metadata private to the camera maker.
Maker Notes are written to the image file at the time of shooting.
EXIF: mostly technical metadata written at the time of shooting.
Exif tags can be edited with appropriate software such as ExifTOOL.
IPTC: metadata relating to image content, creator, subject and more.
Must be added later (dashed lines) manually by the photographer, a dedicated metadata editor (person) or automatically by cloud services by Adobe, Google and possibly others.
Metadata edited in postprocessing can be stored in existing image files or associated sidecar files.
Metadata from associated files are merged into exported files (dotted box).
Note: Other metadata groups exist, but will not be covered here.
Metadata groups (Maker Notes, EXIF and IPTC) are regulated in a way that allows information to be written into more than one group. This means that we'll be able to find information in one group or in more than one group. This is okay in most cases. Other proprietary metadata groups can be added by the applications we use.
Editing metadata is not advisable in most cases. Users wishing to do so anyway should read the chapter that can be accessed through the following link:
Takeaway
Metadata is the key to our photo collection – helping us and others to know what's pictured in an image, who took the image and more.
TuToDxO.com – All rights reserved – tous droits réservés.