Exposure Compensation shifts the global brightness. This setting provides to PhotoLab about the photographic intent, the desired tonality by the photographer.
Modern camera metering systems recognize the subject (e.g., a backlight portrait) and are calibrated to produce balanced direct JPEGs. The camera always tries to protect the highlights. The whole point of developing your photos is to restore the accuracy of the scene or to dose the light according to your taste.
See the tutorial "Starting developping – Exposure Compensation"
Exposure Compensation also allows you to cancel the offset "exposure to the right" for raw photos (ETTR).
The offset applied to the shot is indicated in:
– The metadata window (Photo library tab)
– The properties window (Ctrl+ I / information pop-up window)
– The compensation is made linearly over ± 4 EV
PhotoLab offers exposure compensation assistance that is useful when the subject is located in a bright area of the image. "Highlight priorities" in the drop down menu list there are proposals for densification of bright areas without consideration for dark areas. The algorithm searches for areas of high brightness and darkens the entire image accordingly, it if necessary. It never brightens it.
Exposure Compensation replaces the white slider of the tone curve on other software. It is also an easy way to remove clipping of the current image (but not of the overexposed photo).
– Check the histogram by activating the Shadow clipping indicators if necessary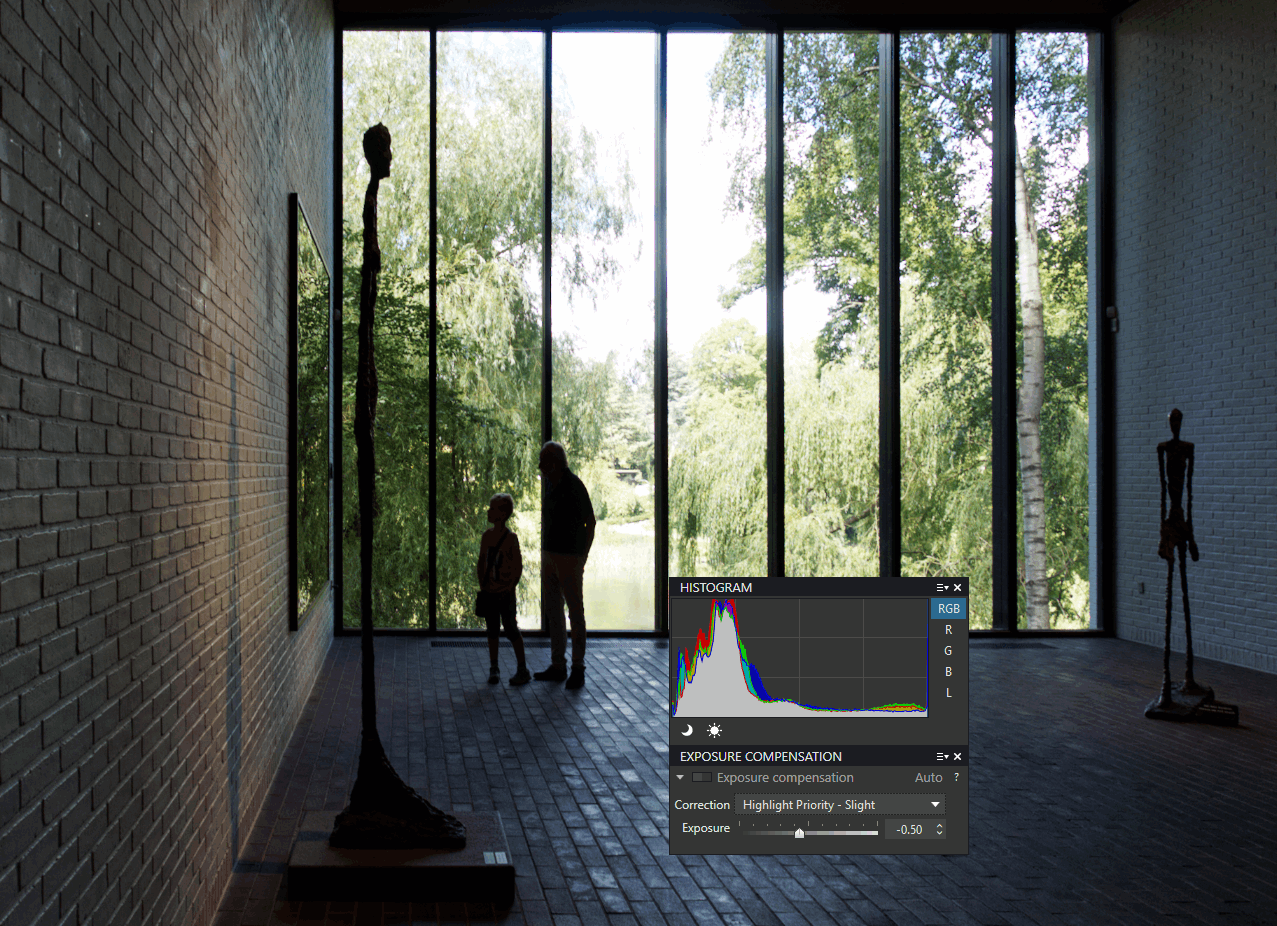 See the tutorial "Starting developing – the Histogram"
These assistants "Highlight priorities" are interesting in a personal starting preset to quickly balance a series of photos taken in the sun. The notable difference with manual use is that the offset value adopted is different and optimized for each frame.
Exposure Compensation is the optional prerequisites for indicating to the Smart Lighting. 
These assistants are not available for Fuji X-Trans photos and RGB images.
TuToDxO.com – All rights reserved – tous droits réservés.