DxO PhotoLab's image search is based mainly on EXIF tags. Each new folder opened by PhotoLab is indexed automatically. The search is performed on all image folders.
PhotoLibrary tab proposes a Search for images item. It can find several capture parameters:
* Focal length / Zoom range
* Aperture
* Shutter speed
* ISO value
* Date of shot / Year – Month – Day / date range
* Star rating
* Folder name / file name / extension name
* Internal keywords from PhotoLab or from third-party software
PhotoLab reads XMP tag keywords included in JPEG and TIFF images or sidecars.xmp created by third-party cataloging software (DAM).
Folders Indexation
PhotoLab indexes as and when files it accesses.
After modifying metadata inputted from outside (and, of course, the first installation) it is necessary to proceed new indexing.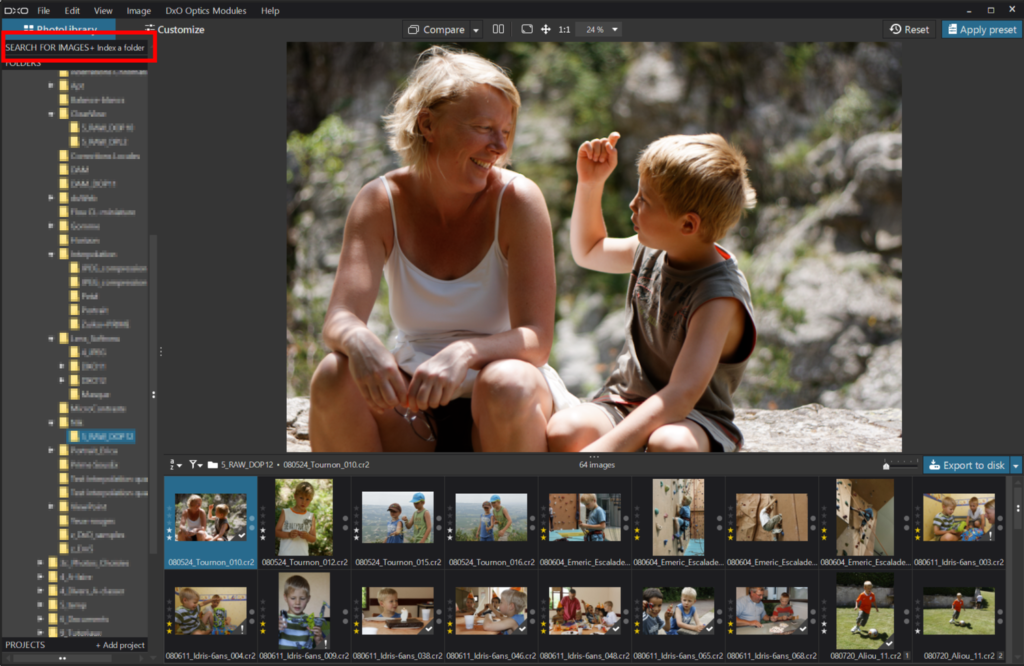 – Click "Index a folder" command and select a main folder > "indexing in progress"
* Indexing is fast. Roughly 50ms / image on SSD or 7200 rpm HDD (more than 1 200 files per minute).
* A search request is sometimes not available just after the indexing. You can have a small "lag" because there are some background work on the DB by the system.
It is no longer necessary to index the folders.
Search for images
The system is ready for the first searches.
* Clipboard contents can be paste.
* The framework of this search is total, ie independent of the current folder.
* The search engine returns the results according to the relevant categories of the database.
* The search engine returns number of photos per types.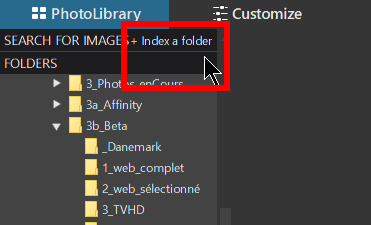 – Enter the beginning of a word, the system makes proposals according to the keywords, file names or folders
– Enter a value (e.g "200"), its format is automatically matched with metadata criteria: ISO value – Focal length – Shutter speed – File Name
– Enhance it (e.g "2000"), the search engine returns: Shot in 2000 – ISO – File Name
– Select one of the drop down list item by left click, instead of push Enter
PhotoLab accepts several special input formats, like:
– Enter a dash (e.g "40-80"), the system proposes Focal length range
– Enter a number sup to 1970 (eg "1995-10") for the pictures taken that month
– Date from various formats like: "01/02", "20 02 2002", "july 14", "yesterday" or "monday"
PhotoLab allows combined search (only the boolean operator "AND" is available at this time):
– Enter a aperture (e.g "8" – See illustration 2)
– Validate it (the searh engine – SE – returns 2 038 items)
– Enter a ISO values (e.g "400") and validate it too (the SE returns 101 items with both criteria)
The Image Browser displays selectable search results as well as its terms. The search result is limited to the first 1 000 entries.
It can be clever to create a project (a collection) with all or part of the results
– Select photos (thumbnails)
– Right click > "Create project from current selection" OR
– Right click > "Add current selection to project"
To know the original location or open all the photos of the selection
– Select a thumbnail
– Right click > "Show input file in Windows Explorer / Finder"
– Right click > "Load original image folder"
In order to exit the search result, click on a folder name from the Source browser. PhotoLab will restart from the search result to which the image browser pointed when stopping.
Keywords creation
Keywords are available in the right dock, palette "Keywords".
In the "Customize" tab, this palette can be added to the workspace.
Keywords can be built according to a hierarchical classification (such as those of DAM).
Keywords can be modified, spread and destroyed with the menus
– Right click OR menu Images
– Copy Metadata (Alt+ Shift+ C / Alt+ Cmd+ C)
– Paste MetadataAlt+ Shift+ K / Alt+ Cmd+ K)
When exporting, the PhotoLab keywords are embedded in the image metadata.
TuToDxO.com – All rights reserved – tous droits réservés.